Qualified Private Chefs in Atlanta and Miami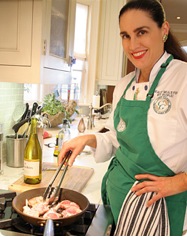 Atlanta private chefs can cook a wide range of meals. Culinary services range from casual family menus to gourmet dinner parties. Professional private chefs typically have completed formal training and graduated from reputable culinary schools.
These chefs have the same skills and training as many professional chefs in high-end restaurants. This means that you can receive true gourmet food, served on your dining table right at home. And because this is your own personal chef, they can learn your preferences and cater to your tastes in the dishes they prepare.
We fully understand that clients value safety and privacy. Therefore, we screen all our chefs thoroughly and check their references. We maintain a "full disclosure" policy, and share relevant information about potential candidates with our clients. We would never withhold significant data from clients just to employ a chef. At Joanna Gray Agency, we maintain this policy during your entire search for a suitable chef.
Our objective is to ensure that the private chef you select through us will respect your family and home's safety and security. Your confidential information and personal possessions are safe. In addition, we will work closely with you to find a chef who can cater perfectly to your family's unique lifestyle and culinary preferences.
Private Chef Responsibilities include:
Working in your kitchen
Planning and preparing menus
Taking special dietary requirements into account
Buying ingredients and foods
Cooking various meals
Organizing and cooking meals for special events and parties
Serving meals and managing support staff
Organizing and stocking kitchens
Catering to your likes and dislikes
Keeping kitchen clean and sanitized