Have you ever wished there were more time in a day? (I know, more than once, right? 😉 ) Well, while you can't add hours to the day, you can hire the help that will make it feel like you have. The secret is in hiring a personal assistant to help. A personal assistant or PA is also known as an executive secretary, a personal secretary, or a private assistant. Whatever you choose to call this person, after hiring one, you will wonder how you ever did without them.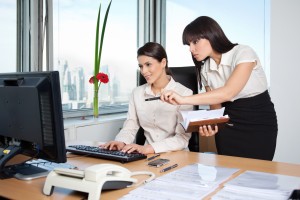 A professional personal assistant can make the difference in enhancing your household and optimizing your valuable time. Who needs a personal assistant? Generally speaking, if you earn a very high hourly wage, you're a high earning business owner/executive or a celebrity, or you're lucky enough to have the means to have someone take over your more tedious tasks, you'll certainly benefit from having this person on staff.
Here are some of the many tasks a qualified personal assistant can do for you, so that you can use the time saved to enhance your life.
Manage and maintain in-home business office.
Calendar social events.
Maintain household calendars and coordinate with business office calendars.
Liaison with executive office assistant.
Accounts payable, expense reports and coordin ate with business accountant.
Legal administration of household with attorneys.
Prepare and write correspondence.
Receive and open mail and email.
Handle document flow and organize files.
Project management.
The list is really endless….. 
A good personal assistant will have a personality that meshes with yours, and will become more than just a worker. This person will often become a sounding board, a confidant, and sometimes even a close friend. Choose wisely and you will have indispensable help at your disposal whenever you need them.
Many celebrities choose to have a personal assistant at their side much of the day, to take care of all the details that could cause problems if not dealt with on a timely manner. Because they are not working in an office and they are frequently moving from place to place, the PA is the perfect solution to their problems and helping keep them organized.
The Joanna Gray Agency has been placing personal assistants for high-powered corporate executives, wealthy estate owners, and well-known celebrities for more than a decade. If you'd like to discuss your needs for a candidate for this position or similar domestic help positions, please contact owner, Joanna Gray, at the Joanna Gray Agency for the personal touch you've been seeking. Joanna will make sure your assistant matches your needs perfectly.